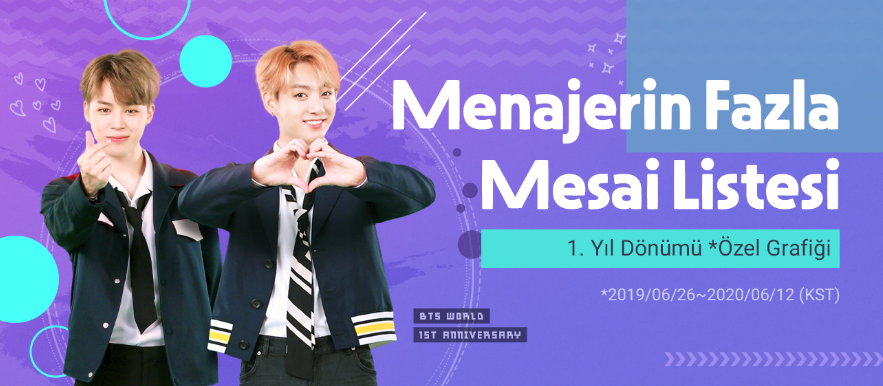 1ST Anniversary Update Available Now Includes a "Our Precious Memories!" Web Event and More
1ST Anniversary Update Available Now Includes a "Our Precious Memories!" Web Event and More
Netmarble today announced a special update available now to celebrate the one-year anniversary of BTS WORLD, the mobile game that allows the player to manage BTS' career. The 1st Anniversary update includes a "Our Precious Memories!" web event, rewarding a 5-star selector for the completion of all missions, as well as a draw event based on tracks from the BTS WORLD original soundtrack.
Since BTS WORLD's launch in June 2019, players around the world have stepped up to take on the role of BTS' managers in the game. Nearly 400 million mobile communications have been exchanged with BTS within the game's messaging feature over the past year, and players have leveled up cards more than 1 billion times. In-game managers have also got 600 million scheduled tasks, over 1.8 million average per day, for BTS, and woke up members nearly 100 million times

In celebration of the game's anniversary, a "Our Precious Memories!" web event will run from June 24 – July 7, rewarding 5-star selector for players completing all missions. Additional anniversary events and rewards include the following:
BTS WORLD 1st Anniversary Draw Event – During each of the following periods, players can acquire cards of certain BTS members, including newly added cards to celebrate the 1st

OST Part 1 (June 24 – June 29) – Jin, Jimin, Jung Kook
OST Part 2 (June 29 – July 3) – j-hope, V
OST Part 3 (July 3 – July 7) – RM, SUGA

1st Anniversary Push Event (June 26, June 29 – July 5)
1st Anniversary Package Sale (June 24 – July 7)
1 + 1 Bonus Time Event (June 24 – July 3)
1st Anniversary Styling & Gem Draw (July 2 – 6)
BTS WORLD includes 10,000 brand new photos and 100 video clips exclusive to the game, and players are able to interact virtually with BTS as their manager through various 1:1 interactive content.
For more information, please visit the official site [Exclusive merchandise from BTS WORLD is also available on the Netmarble Online Store.